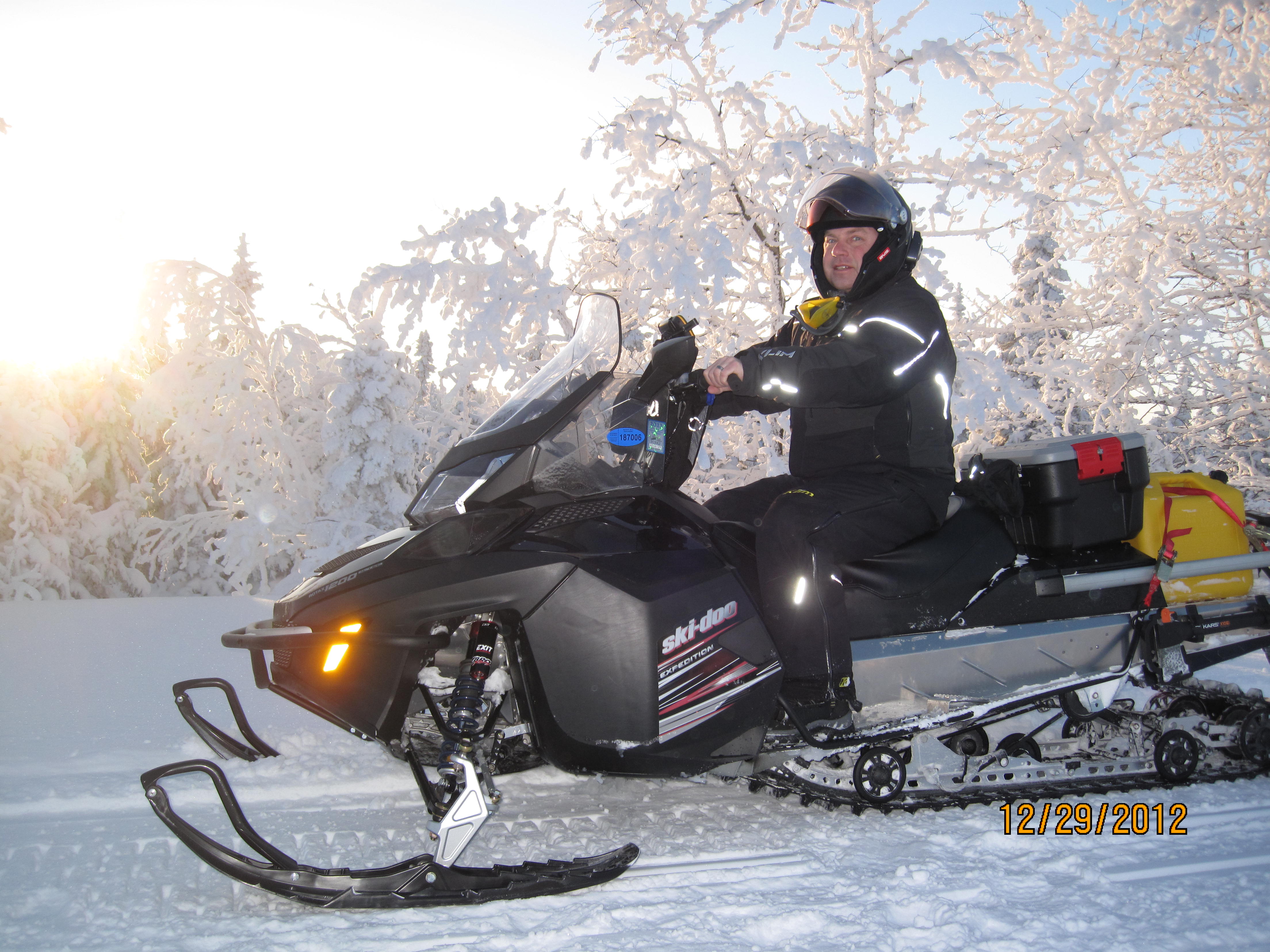 603backcountry
Contributing Member
Content Count

65

Joined

Last visited

Days Won

5
Profile Information
Gender
Location
Interests
Snowmobile

2018 Freeride Xtreme 154, 2017 gade 850
Great pics still looks great

MrGutz

reacted to a post in a topic:

Spring Fling

doonali

reacted to a post in a topic:

Spring Fling

Blue blood the trip is doable as soon as the ice freezes we carry enough fuel to make appx 300 miles and we are able to get fuel at most of our stops

Another eventful day we left km 31 and headed west thru some bush trails and ended up on the west side of the pipmicuan reservoir. Headed north to chutes de passes, from there we headed east to track the north side of the reservoir snow was deep once again. We had a fuel pump problem on one of the 850's so we loaded it onto the Sleigh and towed it back to km 31. Also broke the tongue off one of the sleighs but we repaired it trailside. 301 miles for the day and in by 9:15 pm. Time to eat, signing out for the evening 603 backcountry

Snowmaster2112 yes even with the top gear we use we still had to dry gear every night. Slush on lakes and rivers digging out etc. working up some serious sweat everything needs to be dried out

Jak we actually do get some sleep some nights more than others

Yes smclelan it is the gorge between pc and fermont. The train actually goes thru the mountain where they bored a hole, the sidehills and drifts are quite challenging

Day 5 from Manicouagan reservoir back to km 31, pushing miles and miles of snow, snow was really sticky and we were chewing up fuel and oil faster than whimpy eats burgers. Arrived last night into km 31 around 7 pm with 300 miles for the day a big day for sure. The teamwork of this group led by Team Maine's Early Rider is nothing short of amazing. After 1,000 miles of extremely adverse conditions not being on any marked trail this is truly an adventure not for the faint of heart. Take care signing off from km 31. 603 Backcountry

Some more pics from day 4 up they the gorge trail and even came upon a nice herd of Caribou. Huge country up here and big big areas of nothing.

Slush on the lakes made it tough traveling with sleighs in tow, we even managed to pull out the superwide 24" with 2 backcountry 146" hooked together with snow bungee and rope. A great friend from Baie-Comeau was with us the infamous "Johnny 24 Dufour". He was definitely ready for battle.

Another set of falls to traverse and endless miles of powder.

Many tough areas where the snow was not set up and bottomless. You know it's difficult when the super wide 24" and 20" wides will not go but we pulled a lot of skis and put the snow bungee to the test.

First time I have ever climbed an 80' high set of falls with water ripping below the shelf ice and many holes to avoid. Definitely have to be on your game. 8B213D96-8B95-4DD5-BE75-825E63AB4CED.MOV

Cruising for miles and miles, weather and visibility has been tough at times

We arrived last Friday at km 31 on Saturday morning we headed out into the country for 5 days of off trail adventure. The first day was an adventure over to km 94 relais manic outarde. Breaking trail the whole way sleighs in tow we managed 208 miles for the day. The second day we left and headed for relais Gabriel another 215 of serious trail breaking. Day 3 was 100 miles of beating thru the woods and rivers putting in a trail up 80' waterfalls stuck in deep snow . Day 4 was a loop east from Gabriel to the old trail along the gorge up to petite Manicouagan back to Manicouagan reservoir in for the night another 190 miles of adventure. Day 5 loaded all back up and headed southwest back to km 31, 300 miles of breaking trail 150 miles of it rivers and reservoirs, ep plus gallons of fuel burnt and 1 plus gallon of oil gone, all in all a great day. Sorry for the long post pics and comments to follow.

Our group was there last week and after speaking with Benoit via messenger, the Chenail is not open this winter. Just strap on an extra 10 gallons and do the loop no big deal.