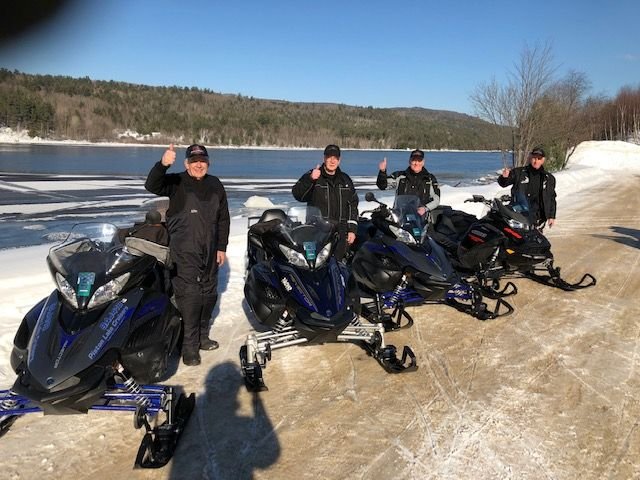 PISTON LAKE CRUISER
Members
Content Count

20

Joined

Last visited
About PISTON LAKE CRUISER
Previous Fields
Club

St. Clements Snowmobile Club Inc.
Recent Profile Visitors
The recent visitors block is disabled and is not being shown to other users.
HÔTEL-MOTEL GRANDE-VALLÉE-DES-MONTS You can't go wrong with this spot Signfan. You will score points with your wife. Very clean and awesome food. The only thing we noticed was that the washrooms were very small in the motel units.

PISTON LAKE CRUISER

reacted to a post in a topic:

Accommodation - Mount Saint Pierre Area

PISTON LAKE CRUISER

reacted to a post in a topic:

Not Yet

We had a New Holland groomer much like the one in some of Groomers pics that took a swim in a "new the previous summer" pond. Spent a lot of money at the New Holland dealer getting it repaired afterwards but always had electrical gremlins showing up after that swim until we traded it off.

The Quebec trail map shows parking at the Esso in Shawville on Hwy. 148

Agree that Covid doesn't mean death but I don't like what I have been reading about some of the "longhaulers" descriptions of their post Covid on going illnesses and I sure as hell don't like the thought of having to be on a ventilator. Agree that the Flu can be deadly but we have a vaccine (flu shot) that drops the percentage risk dramatically. Guess I better get an appointment made for mine.

Looking at published figures on the web, as of today, 86.6% of total reported Canadian covid 19 cases (120,000) have recovered and 7.4% have died. As of today , 51% of US reported covid 19 cases have recovered and 3.15% have died. These rounded out figures don't reflect testing done, only how many people have had Covid, how many died from it and how many recovered. You are correct that by % more Canadians have died but there is a much higher percentage of Canadian cases that have recovered so there is a huge number of people in the USA that are still fighting Covid and so the figures really don't tell the whole story until all the people who are still sick with Covid on both sides of the border recover or die unfortunately.

PLAYHARD

reacted to a post in a topic:

Pics from the Matapedia Valley !!!

WOW! That first picture is beautiful!

smclelan

reacted to a post in a topic:

QUEBEC TRAILS CLOSING

Quebec snowmobile trails close for season at midnight this Sunday Communique_COVID-19_2020-03-19_motoneigistes_EN.pdf

mikerider

reacted to a post in a topic:

Anyone seeing sledding issues from Covid virus

you need to take into consideration that your friend in New Brunswick will pay 15% sales tax on the new sled plus whatever tax you pay at home when transferring the ownership into your name. It would likely still be a good deal.

Americans will be exempt from the border closing according to Prime Minister Tru Doh

Tru Doh just announced on television that Canadian Borders will be closed but Americans will be exempt from this policy. That being said, the rules have been changing quite rapidly this past week.

We had a stator going bad on a Yammie up there 3 years ago. We had to boost it every time to get it going but it ran fine from Temiskaming to Amos. Personally and if you have time, and Amos has a stator, I would call and make a deal with the dealer to get it fixed on warranty (if its a warrantable failure) and pay him some extra dollars to do that for you before the end of Friday work day. If he can't fix it until Friday, day trip today around Amos with a booster pack along for the ride . You don't have to go a long way away from Amos to have a good day of riding.

The ferry at Tadoussac runs day and night and its only a 10 minute crossing so if you just miss it its likely a half an hour to 40 minute wait. I'm assuming you will go 3/351/302/3. From Berthierville to Quebec City has a lot of turns and intersections. If you have a dash mount GPS it won't be too bad. From Quebec City on its straighter and good big trails . Recommend fuel at Pont Rouge Ultramar and Le Michelieu at intersection of 3 and 378 for sure.

MrGutz

reacted to a post in a topic:

Gas in st Raymond

I'm guessing that you are going via the west side on trails #396 and 307 to Amos. If that is the case it is 178 km. (111 miles) to the first gas at Saint-Felix-De-Dalquier. When you get onto trail 307, you will cross Highway 109. At the second stop sign ( I think) after you cross the highway you will be at (road) Rang 7.8 & 8.0. Turn left on the road and ride into the village to the stop sign at Highway 109. Look to the right and you will see the gas station. From there its about 110 km. (68 miles) to Val D Or depending on what route you take. Personally I like trail 307 south from 93 to 83 but they are all pretty nice.

PLAYHARD

reacted to a post in a topic:

Gas in st Raymond

zrtkat

reacted to a post in a topic:

Gas in st Raymond

zeusand

reacted to a post in a topic:

Gas in st Raymond

Permits are available by ordering on line or going in person to any Service New Brunswick location.