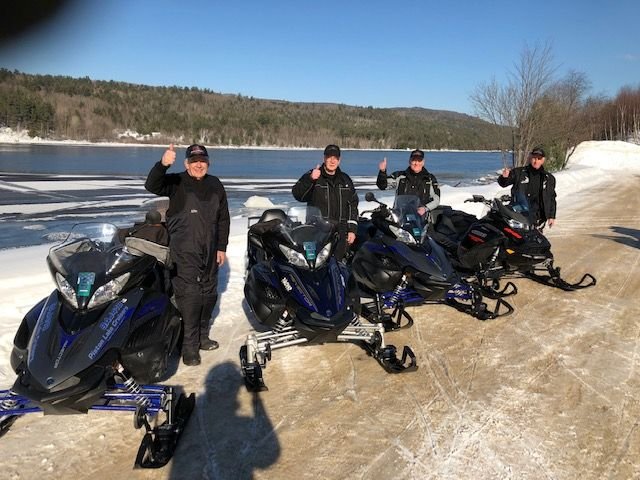 PISTON LAKE CRUISER
Members
Posts

62

Joined

Last visited
Previous Fields
Club

St. Clements Snowmobile Club Inc.
Recent Profile Visitors
The recent visitors block is disabled and is not being shown to other users.
PISTON LAKE CRUISER's Achievements
Contributor (5/14)
Recent Badges
79
Reputation
Happy Thanksgiving to all our friends in USA!

PISTON LAKE CRUISER

reacted to a post in a topic: Throwback Thursday - A105Q/Abitibi Region/Isolated or Remote Riding

revrnd

reacted to a post in a topic: Throwback Thursday - A105Q/Abitibi Region/Isolated or Remote Riding

Hi Revrnd. Glad to see you have posting here. Signfan is right. The trip from Swisha ( Rapides des Joachims) up43 and 386 to La Verendrye is remote and not near as many sleds as Cochrane to La Reine used to see. Even from Verendrye on up to to the top of the reserve is pretty remote although better trail and more sleds. Louvicourt east of Val D'or to Lac St. Jean is very remote most of the way and not highly travelled. They would be the most remote that I have been on in Quebec but I'm sure there are more.

PISTON LAKE CRUISER

reacted to a post in a topic: Throwback Thursday - A105Q/Abitibi Region/Isolated or Remote Riding

I remember 22 years ago next March 8th starting from St. Raymond and riding to La Tuque. It was mild with water pools everywhere. We decided the next morning to head back to St. Raymond in case we couldn't get back if we ventured further north. We rode a piece past St. Raymond down toward Quebec City. We had to stop in a bush because a snow bridge had gone out. There was a fellow collecting sap in the bush. We returned to the hotel and as we were loading the sleds a guy on a Honda Goldwing rode past. It was 65 degrees that afternoon. The 4 sleds never got dirty on the open bed Triton on either end of the trip from Kitchener/Waterloo Ontario.

You do not have to hit insert. Just hit the submit button when you are ready and the picture should be in the post if you review it.

I'm using a laptop and bringing in a close-up. The fuel stops (and others) often do not show up until you get more of a closeup of the area.

There are 2 choices: From the Petro Can on 93 south of Chibougamau to La Dore on 93 is 152 miles to gas. If you turn east off 93 about 10 miles north of LaDore and head east to Pemonca it is 149 miles to gas. This fuel locations are shown on the Quebec on line trail map.

The only trouble with January is the extreme cold temps. are normal. After two consecutive January saddlebag trips where we had a number of days with starting temps of -35 to-42 we decided a timing change was required. Only good part of the cold trips was that the trails were flat and hard. It seems to warm up a bit after the first week of February.

I remember when our group of 4 got 2 "adjoining" rooms at the older hotel in downtown Mont Joli. Lots of laughs when we found the adjoining was a narrow T shaped hallway that went between the rooms and was the washroom for both rooms. You had to skirt around the sink when going to the other room and to sit on the toilet you pretty much had to go into the hallway then back down the leg of the T and have a seat. Sled memories, aren't they awesome!

Ontario OFSC has had a similar video watch requirement when buying permits for the second year this time around. Off trail riding on private property is a big issue with costly effects for all riders. To bad the ones causing the issues don't pay attention.

You can ride up the river from where the trail 93 crosses the river to within a block of it. It's on the trail guide, here's a link: https://fcmq.fcmqapi.ca/fr/carte-cond.html#map

It would be roughly 375 km. . The trail down to Amos is capable of maintaining good speeds in many places.

If I was a betting man, I'd bet on it not getting rebuilt. The costs of building anything in Canada right now is ridiculous and when you add the remote location it would be that much worse. I think most touring sledder's have and will continue to ride through to LSQ or Amos. That wouldn't help a new place survive.

Try the link below. It is the windy snow depth chart. You can move the map around to look at the area you are interested in and click on any spot with snow to tell the depth. It appears that Quebec doesn't have much snow but The area in Northern Ontario near Chapleau has 20.3 cm (8"). Hope this helps. https://www.windy.com/-Snow-depth-snowcover?snowcover,50.451,-81.035,6

Interesting, it is identical to the Deere right down to the hood louvres with the exception that I thought the sun and/or camera was lightening the colour.