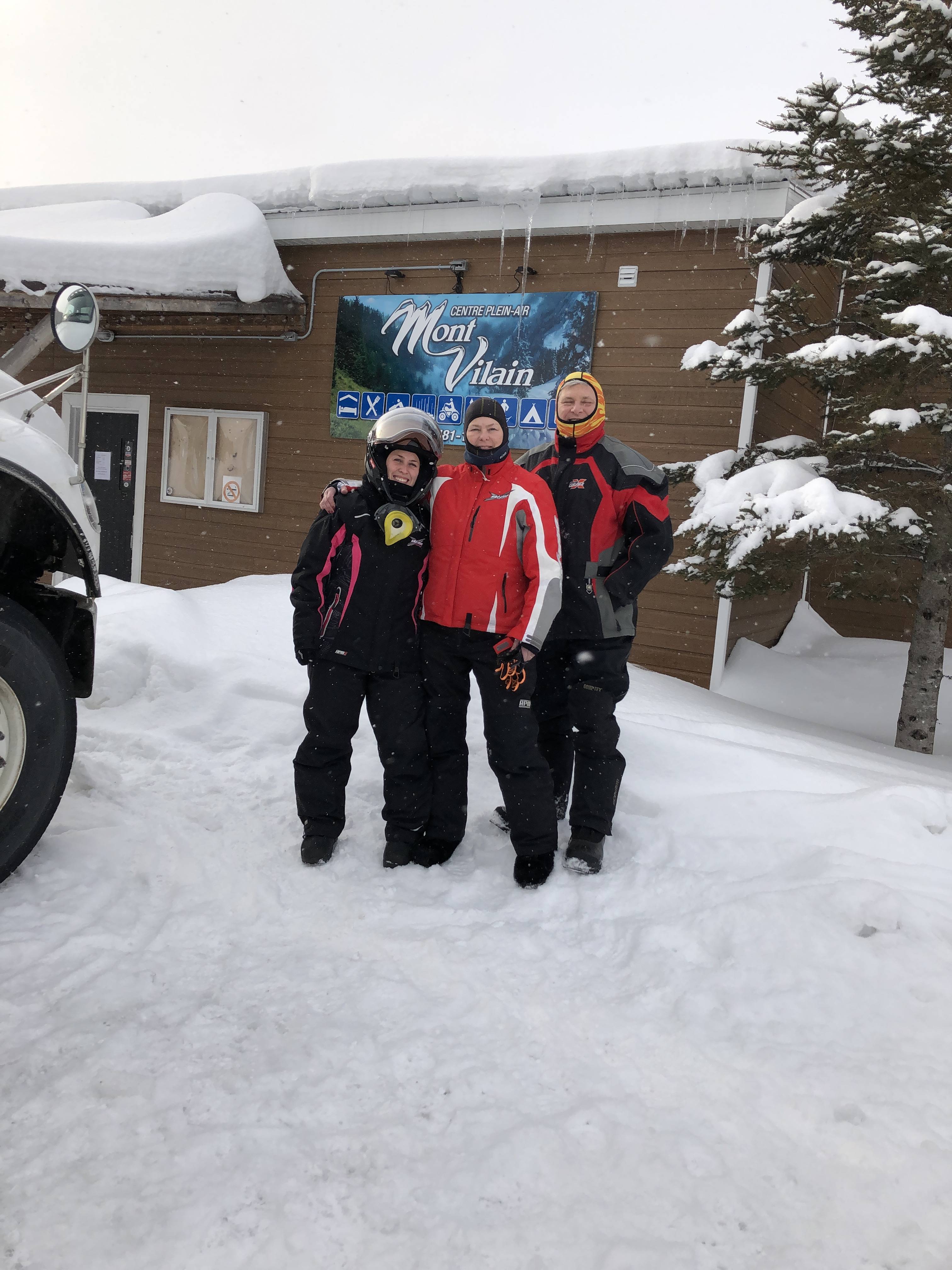 nyskidooerinnewhampshire
Contributing Member
Content Count

258

Joined

Last visited

Days Won

5
About nyskidooerinnewhampshire
Rank

Advanced Member


Birthday

09/02/1965
Previous Fields
Club

Pittsburg Ridge Runners, Pittsburg NH/Caribou-Conscrits, Saguenay
Profile Information
Gender
Location

Pittsburg NH 03592 / Southeast, Putnam County NY

Interests
Snowmobile

'19 900 Turbo Enduro Renegade
https://wgme.com/news/local/sen-collins-slams-president-biden-over-border-policy

In due time the sticker will be affixed. : ) Thank you for the play-by-play. I very much enjoyed following along and viewing the relais as they were familiar.

NSHM

reacted to a post in a topic:

Unreal! Must read

Pipeman

reacted to a post in a topic:

Unreal! Must read

PLAYHARD

reacted to a post in a topic:

Unreal! Must read

quebec bob

reacted to a post in a topic:

Unreal! Must read

The whole package is a disgrace. Such a sham. It isn't very comfortable to know Americans have accepted this bill. The saddest of all, it doesn't appear the thievery will end anytime soon. Those of us who work for a living be prepared to open up your wallet.

Snobeeler

reacted to a post in a topic:

Possible Trail Closures

The following is the text translated by GOOGLE from the above article SNOBEELER provided the link too. . JULIEN CABANA Friday, February 19, 2021 5:00 AM UPDATE Friday, February 19, 2021 5:00 AM If ever the threats of trail closures in Mauricie materialize, we could witness a real explosion of Quebec's snowmobile trail network. It is one to midnight. This threat comes from farmers who are tired of having their crops destroyed by delinquents who respect nothing. "We represent more than 1,000 agricultural producers over a very vast territory that stretches from Lanaudière to the Portneuf region and to the north, we touch on Lac Saint-Jean. We are a pivot for the network of trails in Quebec, explains the regional president of the UPA, Jean-Marie Giguère. We had a meeting in an area where there are 300 farms. People have reported facts to us which, for sure, will cause irreparable damage to crops. We can talk about losses of several thousand dollars for farmers. The damage is caused to fields producing garlic and strawberries, or to large vegetable crops such as wheat. Problems come to us from all over the region. " The next spring break worries the manager. "We are anticipating spring break. We have the St-Tite Western Festival and it looks like the cowboys hugged the horses and fell on their snowmobiles. They travel their snowmobiles on trailers, stop everywhere and let's go. It is a lack of good manners. We, the farmers, think we are helping the regional economy by allowing snowmobiling on our land. But, under the current circumstances, with the anger rate of my members, if we have 10% or 15% closing the trail, the impact is going to be direct. We hope that by reading you, delinquents will put their heads in their heads. " The spokesperson says he fears that if this continues, unfortunate actions will be taken. "We must not wait until there are people who are at their wit's end, who do dangerous things. Some have given us to understand that they will close the trail, with means that risk injury to users. It must stop and quickly, otherwise the consequences will be there. " REACTION OF THE FCMQ For the president of the Federation of snowmobile clubs of Quebec, Réal Camiré, we must act quickly, otherwise the damage will be major. If in the past they were rather limited, this season the danger of endangering a good part of the trail network is very real. "You have to understand that Trois-Rivières is a gateway to La Tuque, Lac Saint-Jean and several other regions. If the Mauricie closes, we lose 2,800 kilometers of trails. The region is a hub that gives access to several other regions, this means that several thousand kilometers of trails will become inaccessible. Also, we must add that there are other places in Quebec where there has been a loss of rights of way. So this is already affecting a lot of trails and with the Mauricie case, we have just jeopardized the entire machine. " A rough estimate makes it possible to calculate that more than 10,000 kilometers would be directly impacted. If we calculate that the Quebec network has 33,000 kilometers, that means that a third of the trails would be in danger. "Real snowmobilers must, if they want to keep their trail network, come to our aid, not being shy about reminding offenders that their actions have important consequences. With what is happening, if it does not stop, finished the interconnected network between the regions, finished the largest network in the world and finished the visit of people from everywhere who want to discover Quebec. "

"....and if you want the '' SCOOP ''.......someone from the club came to visit about 3 weeks ago.....asking if i was still interested to groom....tq 5 , 3x a week ...and another operator for the local trails.....i said no...and with more $$$$" I'd be willing to bet the majority herein had no doubt someone would approach you and ask you to reconsider your stepping down. Furthermore, t am confident it won't be the last time someone asks you to reconsider. You can always change your mind when you get tired of entertaining us with your wonderful photos. Thank you for the latter. Stay healthy, stay safe. Paddy O

A big tease for those of us south of the border. Albeit it is finally snowing @ camp -@ Pittsburg NH. Hopefully, it will begin to accumulate for the February adventure.

"More information required about the tall boots and short pants....lol"..I second that motion. Minus 40C +-...Today's ski-doo is not starting with the inferior quality relays they outfit the machines with. I definitely would have been seeking out the porter asking for a lengthy extension cord, or two, a hairdryer, and warm hands to fire up the machine. Did you have to pull the plugs and drop gas in the port to fire her up? No synthetic oil? Must have been like pulling a heavy linked chain through wet cement.

I wonder if he had booties on his paws to protect him from road salt and cold temps; Those cops must have been laughing their asses off. I assume when the cops asked for ID she produced the dog license. How humiliating. I'm laughing just picturing the interaction. And to give them tickets? I would have told them this one is on me, you made my career. Next time take him to the doggy park.

Cut & pasted from the Colebrook NH Chronicle, January 15, 2021 edition. Colebrookchronicle.com BREAKS CURFEW WALKING HUSBAND ON LEASH Walking your husband on a leash like a dog is no excuse for breaking the curfew set by the Quebec government. A woman was stopped by police while she was walking her husband along King St. East in the City of Sherbrooke on Monday evening after the 8 p.m. curfew. When Sherbrooke Police Officers rolled up to the people in question, they asked what they were doing out after curfew. The lady turned to the officers and told them she was just out walking her dog–the "dog" being her husband. Police were not amused and informed them they could give them fines up to $6,000 each. Police ended up giving them fines of $1,500 each. The couple reportedly did not argue with officers and just finished their walk home, according to Officer Isabelle Gendron, Sherbrooke Police Service Communications Officer. Corey Bellam QUEBEC Colebrook NH Chronicle ____________________________________________________________________________________ QUEBEC CURFEW CRACKDOWN Dozens of Quebec residents are facing fines for violating Quebec's newly enacted curfew laws that started on Saturday, Jan. 9 at 8 pm to try and curb the spread of the virus. Provincial Police (SQ) said they targeted about 20 locations across multiple towns and cities and issued more than 150 tickets ranging from $1500-$6000. In Quebec City, about 20 people protesting at around 8:20 pm Saturday evening were slapped with fines, according to Sgt. Etienne Doyon, adding that some had to be detained for failure to give I.D. to police officers. A protest in Sherbrooke prompted police to fine about a dozen people. Other locations all across Quebec had fines and arrests due to broken curfew. Quebec Premier Francois Legault hopes the fines will make people think a bit before breaking curfew. The curfew is from 8 pm -5 am from Jan 9 to Feb 8. Corey Bellan Quebec Colebrook NH Chronicle

Impressive. Roadside surgery with the same-day discharge.

Thanks, Gutz. This particular relais is located in Laterrière, the Érablière Au Sucre d'Oris, aka Golden Bush. Located at the entrance to the Zec Mars-Moulin in Laterriere, on the Chemin de la Chaine. The relais is accessible by trail 383 & 368. Here is a neat article for those that follow the NHL as NHL player Antoine Roussel is co-owner. https://www.journaldemontreal.com/2020/05/03/un-hockeyeur-a-la-cabane Regretfully, from the relais posting on FB from November 05, 2020. Érablière au Sucre d'Or tNovemtibgfler 5o,alSupos Snlsor2edi02mhc0d ·

If that is the female's first name I don't recall. Nice lady though. If you are referring to a relais in Clova, no. This particular relais is in Saguenay. I've added some photos to the original post. The addition might cause someone who is interested to recollect.

Thanks for sharing : ) . A most enjoyable ride from the armchair ifo of the fire and beverage in hand.

Correct - Le Realais Grenier - Beautiful fireplace & lengthy bar within.